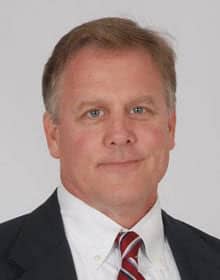 Guice Smith is the Managing Director of Guice Smith & Associates (GS&A).  Along with managing the recruiting firm, he remains active and hands on in searches recruiting in disciplines as executive administration, accounting and finance, and operations. He has built C-level executive teams for manufacturing, healthcare, technology, professional services and other industries throughout the United States and internationally. His search assignments have included CEOs, COOs, CFOs, and CIOs, as well as EVP and VP positions.
Guice was a partner for 17 years with an international search firm, where he was responsible for building the firm's healthcare, accounting and finance, and management consulting practices. Before entering the executive search field, Guice was in the audit practice for the New Orleans office of Deloitte. He went on to work with Burkhalter and Company, a national boutique accounting and consulting firm focusing in the healthcare, public utilities, not-for-profit and manufacturing industries.
Guice is a 1981 Accounting graduate of the University of Mississippi and a Certified Public Accountant (CPA). He is the 2017-2018 President of Tennessee HFMA, Board Member – Vice President of Collaboration of Tennessee HIMSS, ACHE member, an Assistant Scoutmaster with Boy Scout Troop 217, a Life Group Leader at Judson Church and past Board Chair for the Donelson/Hermitage/Harding YMCA.
Guice has been married to Rhonda for 25 years.  They have two sons and reside in Nashville, TN.