The Right Leadership Serves for the Right Purpose.
CONNECTING FAITH AND MISSION BASED ORGANIZATIONS WITH THE RIGHT LEADER.
Choosing the right leadership team has a great impact on your faith and mission based community.
Each new addition must arrive with more than excellent credentials, experience, and wisdom. The right leader for your organization must align in faith, mission, culture, and spirit. Plus, their approach to their work and the membership requires a highly-specialized, unique set of personality traits, communication skills, and even lifestyle considerations. All are unique to your organization.
GS&A understands these complex requirements and shares over 90-years of combined experience in similar environments, as well as personal experience within faith-based and mission organizations. We connect faith-based and mission organizations with the right leader through our rigorous ministerial executive search and recruiting process.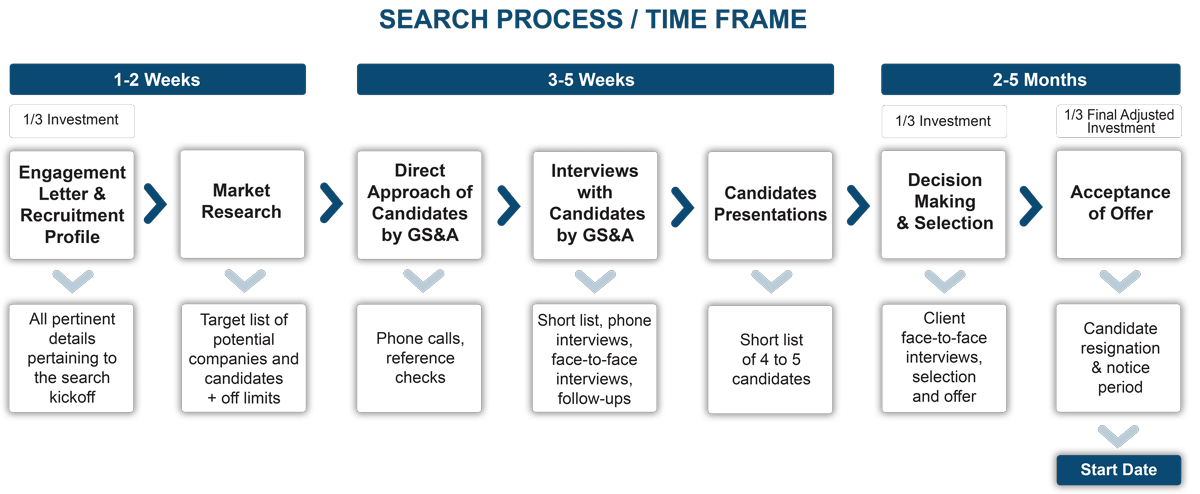 WE HELP YOU MAKE INFORMED DECISIONS.
Begin with Deep Understanding: We start with a specific approach to understanding you, the role, your culture requirements, and all the critical nuances and expectations. We go through a series of deep discussions around all facets of the job, personalities that work and do not work, culture, and much more. When complete, we share our findings, descriptions, and other pertinent information. We review these findings together with you to be sure we are all on the same page and nothing is missed. No ministry leadership search moves forward until you are sure we thoroughly understand every nuance of who is needed and what constitutes "the fit."
GS&A's rigorous faith-based and mission organization leadership search process also includes multiple advance interviews with each qualified candidate. We do our best so you see only those candidates that we believe truly meet your and the candidate's needs.
No messy resume reviews: We are here to help you make an informed decision. Because we take the time to perform multiple interviews in advance, you will not receive a stack of resumes for you to review and do all the work. We do the work of discovering, identifying and interviewing the right candidates first. We are here to help you make an informed decision by eliminating those that are not a fit before you see them.
Regular Updates & Confidentiality: Your search is managed privately and securely from start to finish by your expert personal consultant. You also receive regular, scheduled progress updates, with detailed summaries.
Administrative Assistant
Adult Ministry and Outreach Pastor
Associate Minister of Family Ministries
Associate Minister to Children
Associate Pastor
Associate Pastor of Discipleship and Small Groups
Associate Pastor of Grand Adults
Associate Pastor of Music and Media
Associate Pastor of Student Ministries
Campus Pastor
Care, Marriage and Family Pastor
Chief Operating Officer
Children's Director
Children's Ministry Coordinator
Children's Pastor / Director
Church Planner
Church Youth Pastor
Communications Director
Contemporary Music Director / Community Engagement Coordinator
Contemporary Worship Pastor
Contemporary Worship Team Leader
Creative Arts and Communications Coordinator
Database Manager
Director of Administration and Communications
Director of Children and Youth
Director of Communications
Director of Engagement
Director of Facility Operations
Director of Family Ministries
Director of Global Network of Evangelists
Director of Middle School Ministries
Director of Outreach and Engagement
Director of Preschool Ministries
Director of Student Ministries
Director of Worship & Music Ministry
Director of Youth and Family Ministries
Discipleship and Groups Pastor
Executive Director
Executive Director of Programming & Creative Arts
Executive Pastor
Executive Pastor of Business Operations
Facilities Manager
Guest Services Associate
High School Director / Pastor
High School Pastor
Junior High Director
Kids Director
Lead Pastor
Marketing Communications Intern
Media / Technical Director
Minister of Worship Arts
Minister to Median Adults
Minister to Students
Music and Worship Pastor
Music Director
Music Minister
Music Worship Leader
Next Generation Pastor
NextGen / Youth Pastor
NextGen Ministry Director
NextGen Student Ministry Director
Operations Administrative Assistant
Outreach Pastor
Pastor
Pastor of Adult Groups
Pastor of Care and Counseling
Pastor of Creative Arts
Pastor of Kids Ministries
Pastor of Missions
Pastor of Staff and Students
Pastor of Staff Development
Pastor of Students and College
Pastor of Worship & Programming
Preaching Minister
Preschool Minister
Preteen Director
Senior Accountant
Senior Director of Adult Ministries
Senior Director of Connections
Senior High Youth Minister
Senior Pastor
Special Needs Ministry Director
Spiritual Development and Group Life Director
Spiritual Formations Pastor
Student Ministries Pastor / Director
Student Ministries Worship Pastor
Teaching Pastor
Tech Director
Technical Manager
Vice President of Development
Videographer
Worship and Production Manager
Worship and Youth Pastor
Worship Arts Director
Worship Director / Pastor
Worship Director / Youth Leader
Worship Pastor / Leader
Young Adults Pastor
Youth and Young Adult Pastor
Youth/Associate Pastor